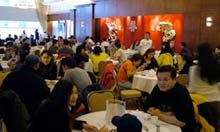 From the Guardian.UK archives comes
this little gem.
I was looking at the traffic on our main website and noticed that I was getting quite a few from here. One of our very own Sunset Park Restaurants
Pacificana
makes the list. I'll be looking at other links on the list to see if we get hits from other interesting websites.